RULES AND REGULATIONS REGARDING EXEMPTION FROM ENGLISH PROFICIENCY EXAM FOR UNDERGRADUATE STUDENTS
Students who have graduated from an English medium school in a country where English is a native language are eligible to go directly to their departments. These countries include the USA, the UK, Canada, New Zealand, and Australia.
Students who are a resident of one the following countries where the native language is English are exempt from the English Proficiency Exam.
Gambia, Ghana, Kenya, Liberia, Malavi, Nigeria, Sierra Leone, South Africa, Swaziland, Tanzania, Zambia, Zimbabwe.
Students who hold the following certificates are exempt from the Placement and Proficiency Exam and can register directly to their departments.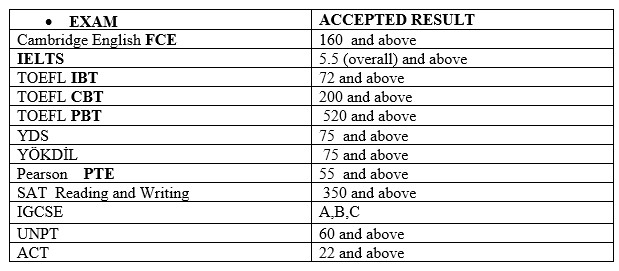 Cambridge English CPE and Cambridge English CAE exam results are also accepted.
Students who are eligible to proceed to their departments according to the rules mentioned above are required to send their passport information or exam result to englishpreparatory.school@neu.edu.tr  in order to be exempt from English Preparatory School.