RULES AND REGULATIONS REGARDING EXEMPTION
Students who register in the English stream of the departments at Near East University are required to take the English Proficiency and Placement Exam.
Students who are successful in the English Proficiency and Placement Exam start their departments directly.
Students who are unable to pass the proficiency exam are registered to a class according to their exam results.
Students who have completed an English Language program in another university at the required level in the last two years are eligible to start their departments.
Students who have graduated from an English medium school in a country where English is a native language are eligible to go directly to their departments. These countries include the USA, the UK, Canada, New Zealand, and Australia. If the student has studied in any other country or is a resident of a country where the native language is not English but the official language is English (such as Nigeria and India), the student will not be exempt from the language exam and will need to take the Near East University English Proficiency Test.
Students who hold the following certificates are exempt from the Placement and Proficiency Exam and can register directly to their departments. An original certificate needs to be submitted to the English Preparatory School administration.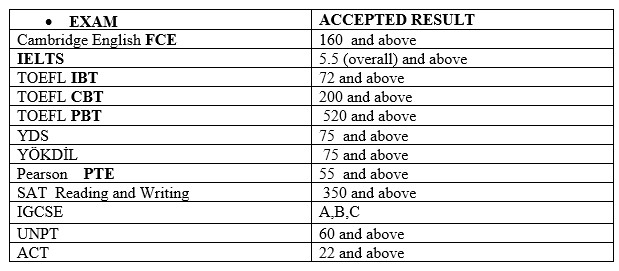 Cambridge English CPE and Cambridge English CAE exam results are also accepted.
According to a decision taken by the students Selection and Placement Centre (ÖSYM) on 14.02.2014 IELTS tests scores cannot be used for exemption by the Turkish Citizens.